Print Ad is dead! Who said? The following print advertisements from across the world would make you believe that Print is still the boss. From funny memes to sarcastic cartoons to quirky visuals, print ad is here to stay forever. Here is a list of 5 print ads from Indonesia that we absolutely adored for their simplicity and creativity.
WWF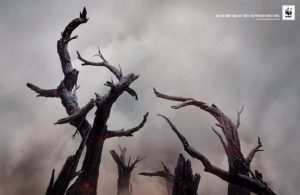 "The death of the forest is the end of our life", we know it but don't realize it yet. A forest fire is a harsh reality haunting most parts of the world currently. Indonesia is one of the countries witnessing heavy losses due to forest fires. This print ad creatively focuses on the fact that forest fires not only cost plant lives but animal lives as well.
Ticket To The Moon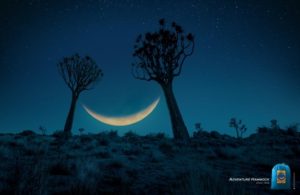 Travel with swag:  Ticket To The Moon beautifully played with visuals of exotic travel destinations and Crescent Moon to create an illusion of a hammock. Travellers usually select the choicest sites to put up their hammock and enjoy the scene. Ticket To The Moon has tried to ignite the same passion.
Ikea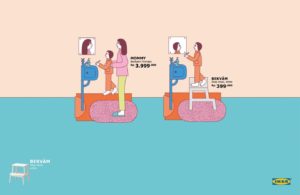 Designed with human relationships in mind: Ikea has beautifully portrayed that Ikea furniture not only fills homes but also take care of our functional and emotional needs just like our loved ones without being very expensive.
Midea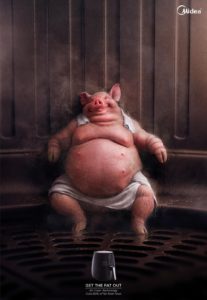 Sauna bath for the food: Midea Air Fryer cuts 80% of fat from food using superheated air technology, something very similar to a sauna bath hence, this quirky ad.
Kobayashi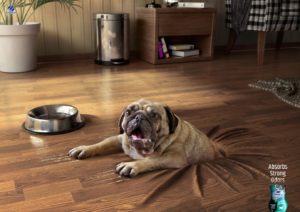 No bad odour would be spared: Kobayashi works on the technology of scented liquid absorbed and diffused by special filter paper, simultaneously absorbing the bad odours. What an adorable way to spread the message!
How to ensure maximum ROI from your print ads?
Imagine you are a paints brand and you want to let people know about your wide variety of colour shades. You can take a picture of an innovatively painted model house and place an advertisement in a magazine like Home & Décor Indonesia. The advantages of placing an advertisement in Home & Décor Indonesia would be:
Magazine Advertising in Indonesia is a great way to reach a niche category of audience based on the category, something one would not find with newspaper advertising.
A magazine stays on the shelf for a longer period based on its print cycle which gives it more opportunity to grab eyeballs.
Magazines are usually read in leisure time when a reader is more prone to be receptive to the innovative magazine advertisement.
Popular magazines often have a premium brand value attached to them so advertising in magazines in Indonesia often help brands boost their value.
Why should one visit Media Ant website?
Media Ant is the largest online platform for buying media advertising spots in India. It is hailed by small and big businesses as a transparent and hassle-free medium of booking advertising options and creating customized media plans. To know more about our Indian business arm, please visit the link: www.themediaant.com
Powered by the rich experience and expertise of media buying, Media Ant has teamed up with major magazine publishers in Indonesia. Our website www.mediaant.id is designed specially to cater to magazine advertising needs of businesses across Indonesia and connect them to the publishers. Media Ant website is also ideal for connecting magazine advertising agencies in Indonesia with magazine publishers in Indonesia.
| | |
| --- | --- |
| Was this article helpful? | |